Oops! Thanks, Alita.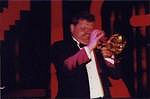 The most exciting musical experience around awaits you in the sounds of the Arkansas Jazz Orchestra. Some of the most versatile musicians in any part of the country are ready to give you a concert that will have you on the edge of your seat. Drawing music from some of the greatest jazz names of yesteryear such as Basie, Ellington, Kenton, Herman, Rich and many others, this organization will mesmerize you with subtlety and then knock your socks off.

But it doesn't stop there. The AJO also plays hits from artists and composers such as the Tonight Show Big Band, Big Phat Band, Phil Collins Big Band, Maynard Ferguson, & Sammy Nestico. These new hits include the toughest and most heart-pounding arrangements to come along in decades. You've got to hear them to believe them.